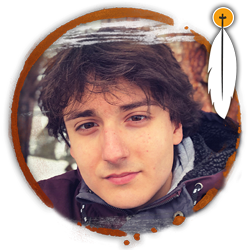 Sananda Kirschner
Filmmaker, graphic artist & speaker


Peter's son Sananda takes over the management of the Native Spirit office and is also responsible for our web design, graphic design, communication and social media.
Some years ago Sananda launched two entirely new areas of native Spirit. At 15, he followed his passion for film editing and camerawork early on and produced his first documentary. A little later, he began to give self-initiated and independently created lectures.

With his films and lectures, he picks up on alternative topics that are often excluded in society and sheds light on them from a different perspective. The topics range from spirituality, frontier science, geopolitics and visions of the future to peace, humanity and nature.